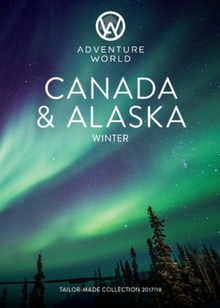 Access the flip brochure here:
Adventure World Canada & Alaska Winter 2017-18
Download the pdf brochure here:
Adventure World Canada & Alaska Winter 2017-18
Adventure World
Phone: 1300 363 055
www.adventureworld.com
INCLUDES:
Canada, USA
Adventure World Canada & Alaska Winter 2017-18
Experiences Not To Be Missed
People come from all over the world to witness the majesty of the Aurora Borealis, or Northern Lights. These mystical lights that come alive and dance are one of nature's most impressive creations, and are a must see for all nature enthusiasts.
While many animals hibernate in winter, just as many are still out, foraging for food. During winter, you can still spot deer, elk, moose, mountain goats, coyotes and the occasional lone wolf in the Rockies while further north, the hardy caribou remain active.
A Canadian rail journey in winter conjures up images of snow-capped mountains, frozen lakes and charming mountain towns. Add impeccable service, mouth-watering meals and comfortable accommodation and you have the journey of a lifetime on board VIA Rail.
Canada's mountain towns come alive with everything you could want from a winter adventure. Spend your days on exhilarating activities or leisurely strolling around town and at night, warm up in a cosy restaurant or bar with the friendly locals.
For those not too keen on hitting the slopes or who just want a break from the breathtaking ski fields, Canada's and Alaska's resorts offer endless options for non-skiers. Head out and enjoy dog sledding, snowmobiling, snowshoeing, ice fishing and so much more.
Surrounded by stunning scenery, a white Christmas in Canada is a truly magical experience. Spend Christmas at the luxurious Fairmont Jasper Park Lodge or Fairmont Banff Springs with your own in-room Christmas tree, sing-along and Santa's workshop.
Destinations
British Columbia
Whether it's a family holiday, backcountry snowshoeing, ice fishing on a frozen lake or taking a snowmobile to the top of a mountain, you'll find the perfect winter holiday in British Columbia. Home to over 13 ski resorts, including the world famous Whistler Blackcomb, BC has some of the world's best powder.
Alberta
Some of Alberta's best winter resorts are located in the iconic Canadian Rockies and are a haven for skiers and snowboarders. The winter wonderland towns of Banff, Jasper, Canmore and Lake Louise are a great base to explore this majestic region and enjoy activities including canyon ice walks, dog sledding, sleigh rides and so much more.
Eastern Canada
The eastern provinces of Ontario and Quebec offer some unique, world class winter adventures. Ontario has the longest network of snowmobile trails in the world and is home to the world's largest outdoor ice skating rink, Ottawa's Rideau Canal, while you can ski, snowmobile, snowshoe or stay in an Ice Hotel in Quebec.
Yukon
Experience winter the way it's supposed to be in the Yukon. Breathe in the fresh, crisp cool air and feel the snow crunch beneath your feet while all around you the mountains and trees sparkle under a bright blue sky. View the majestic Northern Lights, enjoy cross-country or downhill skiing or discover the joyful sport of dog sledding.
Northwest Territories
The locals in the Northwest Territories love winter and happily share their winter adventures and festivals with travellers. You can cross-country ski, snowshoe, dog sled, snowmobile or kite ski your way around or, for the adventurous, head out on the famous ice road from Inuvik to Tuktoyaktuk on the Arctic Coast.
Alaska
Sure it's cold, but winter in Alaska offers plenty of outdoor adventures and the locals love to throw winter festivals, with the most exciting being the Fur Rendezvous Festival, which culminates with the start of the Iditarod Sled Dog Race. There are also plenty of opportunities to ski, dog sled, snowshoe, snowmobile, ice fish and to view the Northern Lights.