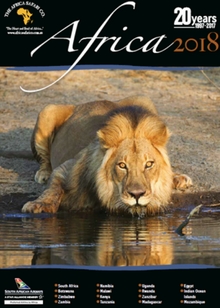 Access the flip brochure here:
The Africa Safari Co Africa 2018
Download the pdf brochure here:
The Africa Safari Co Africa 2018
The Africa Safari Co
Phone: 1800 659 279 or +61 2 9541 4199
www.africasafarico.com.au
INCLUDES:
Angola, Botswana, Congo, Egypt, Kenya, Lesotho, Madagascar, Malawi, Maldives, Mauritius, Mozambique, Namibia, Rwanda, Seychelles, South Africa, Swaziland, Tanzania, Uganda, Zambia, Zimbabwe
The Africa Safari Co Africa 2018
It's an adventure unlike any other. South Africa, a vast land of unimaginable beauty and a diversity of experiences, will take your breath away.
The Africa Safari's Fully Serviced Camping Botswana Adventure invites you to sit back, relax and take in the amazing scenery of southern Africa while they take care of ALL of your chores! Unlike the majority of Overland companies that make guests work for their supper (cooking, cleaning, setting up camp), their Fully Serviced Camping Safaris are exactly that: fully serviced. You won't have to lift a finger as they prepare your meals, secure your tent and make sure they don't leave a mess. Join them on this magical trip throughout Southern Africa. Visit the highlights of 3 magnificent countries in comfortable 4-star accommodation.
The Golf safari features 5 rounds of golf, starting in the extravagant playground of Sun City where you play South Africa's most famous course, The Gary Player, plus a round at the neighbouring Lost City – beware the 13th hole, a par 3 with Nile crocodiles in the moat around the green.
Onto Kruger National Park where you will play a round at White River Golf Club, located inside a game reserve, before transferring to Kapama Private Game Reserve for two nights on safari.
This safari combines game viewing in some of the most spectacular game parks in East Africa. Uncover some of Africa's wildlife on this journey through the world-famous Serengeti National Park, enjoy endless views from the rim of the Ngorongoro Crater, discover the multitude of wildlife that abounds the Masai Mara and a highlight of the trip is your game drives at the foot of Mt Kilimanjaro in the Amboseli National Park.
A classic safari combining Big 5 game viewing in the legendary Kruger National Park, staying at exclusive and private Game Lodges, leisure time to explore Cape Town—the beautiful Mother City and a journey aboard the unique Blue Train—it is not merely a train but the luxury of the world's leading 5-star hotels within the charm of train travel.
It's hard to imagine a better combination than a Beach and Bush adventure: a perfect combination of activity and relaxation. Begin your holiday by relaxing and unwinding on the white sandy beaches of Mauritius before setting off on safari in search of spectacular wildlife in South Africa. This safari offers the traveller an opportunity to relax and recharge before enjoying the ultimate safari experience. Each of the safari lodges & camps have been meticulously designed to offer all your home comforts, a splash of luxury & an exciting dash of unique.