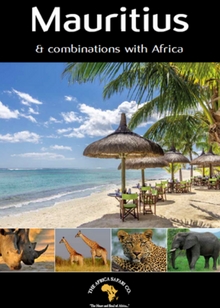 Access the flip brochure here:
The Africa Safari Co Mauritius 2018
Download the pdf brochure here:
The Africa Safari Co Mauritius 2018
The Africa Safari Co
Phone: 1800 659 279 or +61 2 9541 4199
www.africasafarico.com.au
INCLUDES:
Botswana, Kenya, Mauritius, South Africa, Tanzania, Zimbabwe
The Africa Safari Co Mauritius 2018
There is something on offer for everyone in Mauritius. Well known as a popular and luxurious honeymoon and wedding destination, it is also great for holidaying couples and families. With its central location between Australia, Europe and Africa it is also growing as a popular inter-generational holiday destination where families from all ages and parts of the world can meet. There are amazing championship golf courses and world class spas offering true relaxation in paradise.
Mauritius offers much more than just a beach holiday. On a visit to Mauritius you can discover the culture and history, meet the local people, haggle for a bargain at the markets, enjoy sightseeing tours or just hire a car and do your own thing! The attractions are many and varied, and the choice is all yours. The Africa Safari Co. can pre-book full day and half day tours, catamaran cruises and organise private personalised tours to really discover amazing Mauritius!
They have selected 24 of the best and most popular resorts located on the North, West, East and South coasts of Mauritius. Some offer golf courses, some spas and some just great beaches, but all offer a great Mauritian holiday experience.
Meals at the Resorts
Many of Africa Safari 's selected resorts include half board meal packages which include breakfast and dinner. Most also offer an All-Inclusive option. Many resorts are located on beaches away from the major villages and tourism hubs so access to restaurants can be difficult so dining at the resorts is the most preferred option.
Sports & Entertainment
Apart from most meals, the majority of Africa Safari's selected resorts also include a variety of complimentary water and land sports (some even offering free waterskiing) and evening entertainment. From windsurfing to kayaks, stand up paddle boards and snorkelling trips the water activities abound. On the land there are tennis courts, volleyball and gymnasiums readily available.
Mauritius has a diverse culture developed and influenced over centuries by foreign settlement. Discovered by the Arabs and Portuguese, it was the Dutch who first settled in 1598, naming the island after Prince Maurice of Nassau. The introduction of sugar cane and deer was offset by the demise of the ebony forests and the extinction of the dodo bird. The Dutch departed in 1710 and the French settled soon after, renaming the island Ile de France.
The British took over the island in 1810 and named the island Mauritius. The abolition of slavery in 1835 led to the indenturing of Indian and Chinese labourers, whose religions, cultures and rights were respected. In 1968 Mauritius gained independence and was proclaimed a republic in 1992. English is the official language while French and Creole are also widely spoken.