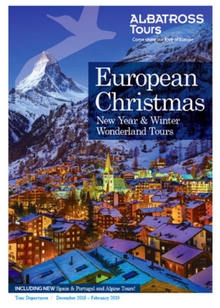 Access the flip brochure here:
Albatross Tours European Christmas 2018
Download the pdf brochure here:
Albatross Tours European Christmas 2018
Albatross Tours
Phone: 1300 135 015
www.albatrosstours.com.au
INCLUDES:
Austria, Croatia, Czech Republic, Finland, France, Germany, Italy, Liechtenstein, Norway, Poland, Portugal, Slovakia, Slovenia, Spain, Switzerland
Albatross Tours European Christmas 2018
There is a magical Winter Wonderland out there waiting for you, filled with exciting 'bucket list' experiences, amazing adventures, and bursting with heart-warming festivities – and with Albatross you will get to experience the very best! All of their Festive Tours have been specially designed to bring alive the nostalgia, joy and romance of the European Festive Season.
Albatross offer 29 unique Christmas, New Year and Winter Wonderland tours. You could be wandering through Christmas markets, visiting beautiful churches, experiencing a cable car ride to a mountain peak or discovering a beautiful European village. So, relax, have a good read and select the holiday that's perfect for you! Using the tour calendar on the opposite page, you can easily combine a range of Albatross tours right through December, January and into February. You may need to stay an extra night or two, or transfer to another destination to combine the tours, just ask Albatross how.
Pre-Christmas Tours
A great way to do your Christmas shopping! Visit fabulous Christmas Markets, enjoy exciting activities, thrilling mountain experiences and be home or with friends and family for Christmas Day!
Market leading Christmas Tours
Perfect for anyone looking for the complete European Christmas experience! Start in grand European historical cities, then escape to the towns and villages and snow-clad mountains to celebrate Christmas the European way! Enjoy 3 to 6-night stays in nostalgic, charming hotels and explore local picturesque scenery, plus essential Christmas Markets, ancient monasteries and Fairytale castles. Perfect!
New Year Tours
Imagine watching the fireworks in Berlin, enjoying a grand celebration in an Italian Castle or simply spending time in the mountains. Their New Year Tours can be enjoyed either as 'stand-alone' tours or seamlessly added to most of their Festive Christmas Tours and Holidays.
Winter Wonderland Tours
Would you like to be home over Christmas but also want to capture the magic of the glorious European Winter Wonderland? Then these tours are for you! Departing in late January and February – when the snow is deeper and the mountains and valleys are alive.