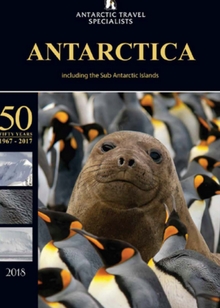 Access the flip brochure here:
Antarctic Travel Specialists Antarctica 2018
Download the pdf brochure here:
Antarctic Travel Specialists Antarctica 2018
Antarctic Travel Specialists
Phone: +61 3 9576 1980
www.antarctictravel.com.au
INCLUDES:
Antarctica, Argentina, Chile
Antarctic Travel Specialists Antarctica 2018
Antarctica is a magical place and the last true wilderness on earth with abundant wildlife, scenery, and solitude found nowhere else on the globe. Small zodiac boats take travellers to visit shore sites ideal for seeing the wildlife, like penguins, seals and seabirds, whilst when cruising, the main ship allows you to scan the horizon for whales, seals and seabirds. Most ships offer a selection of outdoor activities such as camping on the ice for one night, kayaking through stunning bays, snow shoeing to get to the perfect viewpoint and for the adventure seekers – skiing, mountaineering or scuba diving are available.
A visit to Antarctica is an amazing experience and will leave you wanting to see more of this unspoiled wilderness! Discover awe inspiring scenery of huge mountains, majestic glaciers, dramatic coastlines and view the greatest concentration of Antarctic wildlife in the southern hemisphere. The island is home to millions of seabirds, seals and more than a hundred thousand King Penguins on Salisbury Plain or St. Andrew's Bay. The Macaroni, Gentoo, Chinstrap penguins and Wandering Albatross also reside here. Visit Grytviken to discover an old abandoned whaling station and Sir Ernest Shackleton's final resting place, his grave on South Georgia. The Weddell Sea is a nature lovers' and photographer's paradise.
The remote eastern side of the Antarctic Peninsula offers the opportunity to observe Emperor Penguins early in the breeding season. The islands and the eastern coast are covered by icecaps and glaciers and the landscape resembles rounded hills. The volcanic islands, massive tabular icebergs and sculptural bergs create a very dramatic landscape. Larsen, Ronne and Filchner Ice Shelves are located in the south–west and southern borders of the Weddell Sea and produce the huge tabular icebergs – a truly magnificent sight. Take an epic adventure to the Ross Sea, only accessible for two months each year when the ice thaws. Here you will find the Ross Ice Shelf, a spectacular 30 meter high floating mass of land–ice.
The cruise will try to visit Ross Island, dominated by Mount Erebus as well as capture the history of early explorers with visits to Cape Royds (location of Ernest Shackleton's hut) and Cape Evans (location of Robert Falcon Scott's hut). McMurdo Station (USA) and Scott Base (New Zealand) is where the largest human population in Antarctica reside. Explore Cape Adare at the tip of the Ross Sea, home to the largest Adelie penguin rookery in Antarctica. The Ross Sea is a perfect location for those interested in Antarctic history.