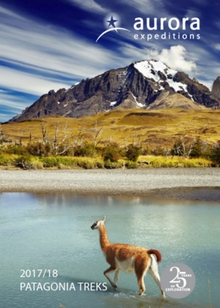 Access the flip brochure here:
Aurora Expeditions Patagonia Treks 2017-18
Download the pdf brochure here:
Aurora Expeditions Patagonia Treks 2017-18
Aurora Expeditions
Phone: 1800 637 688
www.auroraexpeditions.com.au
INCLUDES:
Argentina, Chile
Aurora Expeditions Patagonia Trek 2017-18
Glaciers calve into mirrored lakes with a thundering roar. Shimmering granite spires pierce azure skies. Gauchos and guanacos drift like clouds across the grassy steppes.
Breathe deep the scent of mist-laden conifer and southern beech forests, where stunted 'flag trees' speak of strong westerly winds that sweep the Patagonian ice field. Bask in alpine sunlight, feeling warm rock against your back as eagles and condors soar overhead.
Over 10 days, Patagonia trek offers small groups the chance to enjoy a very personal, guided tour of the best the region has to offer. From the active Perito Moreno Glacier to Cerro Torre and on to Torres del Paine National Park, you visit climber's camps beneath the splendour of peaks like Saint Exupéry, Poincenot, Fitz Roy, Mermoz and Guillaumet.
You combine boat and Zodiac trips to explore spectacular fjords and iceberg-strewn glacial lakes. Walking up to six or seven hours a day, you relax in comfortable lodges and hotels each night and schedule in time to shop for handmade chocolates or dulce de leche in wonderfully-scenic towns like El Chaltén and El Calafate. Perhaps you prefer king crab? If so, Puerto Natales in the Patagonian channels will delight.