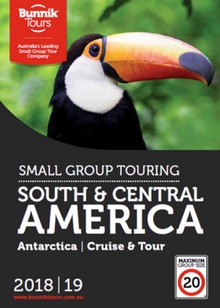 Access the flip brochure here:
Bunnik Tours South & Central America 2018-19
Download the pdf brochure here:
Bunnik Tours South & Central America 2018-19
Bunnik Tours
Phone: 1800 286 645
www.bunniktours.com.au
INCLUDES:
Antarctica, Argentina, Bolivia, Brazil, Chile, Colombia, Costa Rica, Cuba, Easter Island, Ecuador, Guatemala, Mexico, Nicaragua, Panama, Peru, United States
Bunnik Tours South & Central America 2018-19
Bunnik Tours is a family company that's passionate about travel, and they'd love to show you their South & Central America, the 'Bunnik Way'!
In creating their holidays Bunnik have two very strong beliefs in mind. The first is that everything they do should first and foremost be about the customer experience. And second, that tourism, when done properly, can be an incredible force for good. They therefore have a responsibility to benefit the communities they visit and not ruin the very thing you're coming to see.
With these guiding principles in mind Bunnik creates small group tours that connect people, places and cultures. In doing so they help to break down barriers, create lifelong memories and, best of all, ensure that the benefits of tourism are enjoyed by all.
Small group sizes ensure Bunnik tours are low impact but also make for a much better holiday experience for the simple fact that everything is easier with a small group – from getting off the bus to having more time with your guide.
Bunnik itineraries are carefully crafted to capture the essence of the countries you visit. They understand that sometimes the best holiday experiences are when you wander away from the group and make your own discoveries. For this reason their tours provide the perfect balance between organised sightseeing and free time for independent exploration.
If you like the sound of their tours Bunnik would love to welcome you to their world.