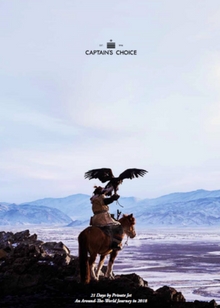 Access the flip brochure here:
Captains Choice Around the World 2018
Download the pdf brochure here:
Captains Choice Around the World 2018
Captain's Choice
Phone: 1800 650 738 or +61 3 8526 2300
www.captainschoice.com.au
INCLUDES:
Australia, Canada, China, Colombia, France, Hawaii, Iceland, Italy, Mongolia, Switzerland, Uzbekistan
Captains Choice Around the World 2018
Like a circumnavigator of times past, you will circle the globe east to west, calling at eight different destinations and cultures, all fiercely their own. Warrior nomads on the steppes of Asia.  A European city valiantly defying the sea.  New World colonial towns.  A Pacific island paradise.  And so much more. This is a journey that celebrates the richness of our world.
Many wish to see the world, and many think they have. But only a handful have the chance to partake of a journey that elevates us from traveller to citizen of the world. With dignified ease, you arrive, explore and depart. On itineraries most unusual.  And a mode of travel both genteel and exhilarating.
This is not an everyday trip. And you are not an everyday traveller.