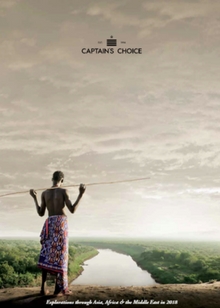 Access the flip brochure here:
Captains Choice Asia Africa & the Middle East 2018
Download the pdf brochure here:
Captains Choice Asia Africa & the Middle East 2018
Captain's Choice
Phone: 1800 650 738 or +61 3 8526 2300
www.captainschoice.com.au
INCLUDES:
Bhutan, Botswana, Cyprus, Ethiopia, India, Iran, Israel, Japan, Jordan, Kazakhstan, Korea, North, Korea, South, Myanmar (Burma), Namibia, Russia, South Africa, Sri Lanka, Thailand, Turkmenistan, United Arab Emirates, Uzbekistan, Zambia
Captains Choice Asia Africa & the Middle East 2018
Cultures revered, landscapes exposed and histories influential. You reclaim the knowledge of your past, where shifting sands divulge astounding ancestry. Disarmed by holy seas, jungle vines and the beginnings of mankind, you set your sight on self-discovery beyond anything you have ever known. Are you prepared for what you may find?
Welcome to a world where every day is an exploration of the unique. Where wishes are brought to life in twos and threes. Where you collect stories as often as you collect photos. Where tasting and hearing is as important as seeing. And where gracious living and adventure happen side-by-side.
This is a world of life-enriching journeys saved only for a select few.
Handpicked for their uncanny ability to anticipate your needs, Captain's Choice World Hosts are the ultimate travel companions. Your World Hosts are made up of a Tour Manager, Tour Hosts, English-speaking local guides and experts including conservationists and anthropologists.
An adventure with Captain's Choice is never a mere list of places or activities to cross off. Long before a destination is presented to you, they fully immerse themselves in it. The moment you take that first step, you will immediately realise that each destination has been selected for the authenticity, distinctiveness and delight that it brings. Whether it's seeing Sri Lanka's greatest elephant migration, or marvelling over ancient architectural feats of Ethiopia.
It is well understood that much of your travel experience is about where you stay and where you dine. This is why Captain's Choice has chosen benchmarks of luxury. You might find yourself one night sleeping in a lake-bound palace. The next, in a former caravansary for silk traders.
Basking in a sunrise breakfast at the Taj Mahal or uncovering the secret to drinking Iranian tea like a local. They have sampled every meal and beverage in the hope that you'll discover a connection to cultures through your taste buds.