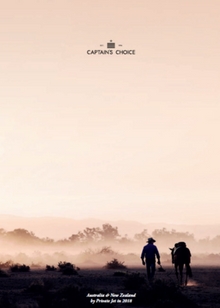 Access the flip brochure here:
Captains Choice Australia & New Zealand by Private Jet 2018
Download the pdf brochure here:
Captains Choice Australia & New Zealand by Private Jet 2018
Captain's Choice
Phone: 1800 650 738 or +61 3 8526 2300
www.captainschoice.com.au
INCLUDES:
Australia, New Zealand
Captains Choice Australia & New Zealand by Private Jet 2018
These are lands replete with wonders. Where ancient rocks hide legends and cultures keep alive memories tens of thousands of years old. Where nature's hand has shaped, with rain and sea and wind, hypnotic spectacles more original than any created by man. And where a unique breed of pioneer was born and thrived. Delve deep into each story and emerge transformed.
Many wish to see the world, and many think they have. But only a handful have the chance to partake of a journey that elevates us from traveller to citizen of the world. With dignified ease, you arrive, explore and depart. On itineraries most unusual. And a mode of travel both genteel and exhilarating.
These are not your everyday trips. And you are not an everyday traveller.
Your Captain's Choice BAE 146 has been customised with the optimum level of luxury for short and medium-distance flights. The cabin features plush, armchair-like business class seats. And while it can accommodate 48, there are only ever 34 guests onboard, allowing everyone ample space to spread out, with the opportunity to take in the views from the window seating.
When you travel by private jet, you'll be flying to places on routes no regular airline travels. With your flying comfort a priority, the BAE 146 is one of the fastest, most agile small jets in operation. This means less time in the air and an ability to land on the rural runways of remote Australia, New Zealand and their surrounding islands.
When you travel by private jet, you can leave the formalities to Captain's Choice. With a team to take care of the details, you will more often than not detour airport terminals and security screenings. At times you may be driven on the tarmac, to and from the aircraft, where a built-in staircase unfolds so there isn't even the need to wait for steps to arrive. Departures in Australia are from the exclusive Sydney Airport Private Jet Terminal, ensuring you not only avoid queues but crowds as well. It's the same in New Zealand, where immigration is fast tracked upon your arrival and again when it's time to return. And because Captain's Choice itineraries are wholly unique, with a level of service no regular airline provides, your only task is to anticipate the next exciting leg of your journey.