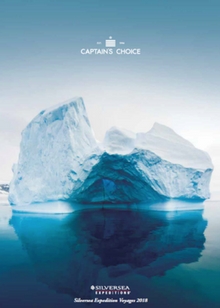 Access the flip brochure here:
Captains Choice Silversea Expedition Voyages 2018
Download the pdf brochure here:
Captains Choice Silversea Expedition Voyages 2018
Captain's Choice
Phone: 1800 650 738 or +61 3 8526 2300
www.captainschoice.com.au
INCLUDES:
Angola, Argentina, Denmark, Ghana, Greenland, Iceland, Ivory Coast, Japan, Namibia, Norway, Russia, South Africa, United Kingdom, United States
Captains Choice Silversea Expedition Voyages 2018
Like explorers of old, we pay heed to the oceans, mapping new routes to lands foreign and barely explored. Distant Alaskan islands marooned in the Bering Sea. Forsaken towns swallowed by Africa's unyielding desert sands. Ice-bound reaches illuminated by eternal sunbeams. This is your chance to join an elite fellowship of travellers who dare to pursue discovery at the ends of our Earth.
Humans have always been drawn to the ocean. To explore beyond distant horizons. To connect with life in wild frontiers. To redefine the atlas of our dreams. Today, while the world's seas have seldom changed, adventures on them are infinitely more pleasurable. With a sense of ease and freedom you will find unimaginable beauty in places you never knew existed.
Step aboard and sail beyond the realms of your imagination. Reaching the world's frontiers is no easy feat. And let's face it, adventure and roughing it is so last century. That's why all the legwork has been done for you; everything mundane sits behind the scenes. Captain's Choice has searched the seven seas for the finest expedition ships to usher you to the edges of the planet, where you'll never have to carry a map. Or your luggage. You'll certainly never have to find small change for tips.
As you'd expect, Silversea expedition vessels include plenty of luxe touches beneath their tough exteriors. You'd be right in thinking the food and wine offering is pretty special. A fully stocked in-suite mini-bar, plush bed linen and a choice of mattress comes as standard. While a snug parka for polar expeditions, Wi-Fi and an included laundry service is all part of the package. It's cruising as it's meant to be.
Making landfall in a new and exciting destination is one thing. But getting under its skin to see its true colours is something altogether different – something very few of us will ever experience. Which is why Captain's Choice has curated an exclusive collection of included experiences called Your World. It's your invitation to take part in rare and amazing events other travellers could only ever dare dream of, like an included helicopter flight over Namibia's sand dunes or Greenland's icecap.
Though you may have visited a destination previously, a Your World experience is likely to surprise you with an aspect of the location you've never considered before.