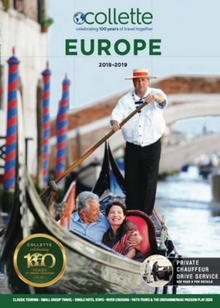 Access the flip brochure here:
Collette Europe 2018-2019
Download the pdf brochure here:
Collette Europe 2018-2019
Collette
Phone: 1300 792 195
www.gocollette.com
INCLUDES:
Austria, Belgium, Croatia, Czech Republic, Denmark, England, France, Germany, Greece, Hungary, Iceland, Israel, Italy, Jordan, Netherlands, Norway, Poland, Portugal, Scotland, Slovakia, Slovenia, Spain, Sweden, Switzerland, Wales
Collette Europe 2018-2019
As a guest of Collette you are treated like a VIP from start to finish. They seamlessly handle the logistics in the background and are always eager to lend a helping hand. All you have to do is enjoy our one-of-a-kind blend of inclusive touring and first-class guest service.
At Collette they consider everyone who travels with them as their personal guest. From the rolling Irish countryside to the ancient cities of Italy, they are by your side. Every interaction, every photo op, every moment matters to them because they know it matters to you. This may be because at heart they are a family owned company that has been in business for nearly 100 years. It may be because they hire people passionate about sharing their own love of travel. It may be because they don't know any other way to do what they do.
Allow your imagination to take you away, across the wonders of Europe. Savour the chance to dream. It's their job to make those dreams come true and to give you more of what makes travel special.