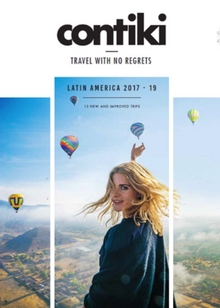 Access the flip brochure here:
Contiki Latin America 2017-19
Download the pdf brochure here:
Contiki Latin America 2017-19
Contiki
Phone: 1300 266 845
www.contiki.com.au
INCLUDES:
Argentina, Belize, Bolivia, Brazil, Chile, Costa Rica, Ecuador, Guatemala, Mexico, Peru
Contiki Latin America 2017-19
Way back in '62 one guy had a dream: to show young travellers the world and change their lives in doing so.
55 years later Contiki goes further than providing good service, making sure that every second is one to remember, every trip is one that will change your life and alter your perception of the world. Contiki has something special – it is Contiki Know-How.
With so many diverse adventures to choose from, they want you to experience Latin America your way. That's why Contiki offers 4 tailored ways to travel, so you can get the very most from your Latin adventure.