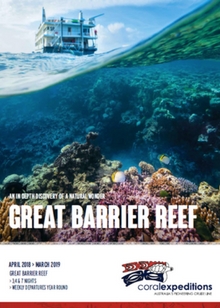 Access the flip brochure here:
Coral Expeditions Great Barrier Reef 2018-2019
Download the pdf brochure here:
Coral Expeditions Great Barrier Reef 2018-2019
Coral Expeditions
Phone: 1800 079 545
www.coralexpeditions.com
INCLUDES:
Australia
Coral Expeditions Great Barrier Reef 2018-2019
Over thirty years ago, the founders of Coral Expeditions launched their expedition cruises on the Great Barrier Reef. With a belief in the concept of eco-cruising, and a commitment to providing a first class adventure, they have refined their expedition to highlight the most remarkable places in this World Heritage-listed area.
The Reef: A Natural Wonder
Sailing from their home-port of Cairns, Coral Expeditions' small-ship cruises take you to exclusive moorings, deserted coral cays, and rainforest trails. With the assistance of their Marine Biologists and trip leaders, you will gain a new appreciation of this unique ecosystem, where the rainforest meets the reef. The Great Barrier Reef is acknowledged as one of the seven wonders of the natural world. Over 2,900 individual reef systems and 900 islands stretch over 2,300 kilometres to create the largest living thing on earth that is visible from space. Covering more than 347,800 square kilometres, the reef structure is created by billions of tiny organisms, called coral polyps. It supports a wide variety of life, including rainbows of reef fish, gardens of Alcyonacea, and Giant Clams. Venturing beyond the reach of day trips, Coral Expeditions travel north to secluded Lizard Island, and exclusive outer reef mooring sites at the Ribbon Reefs and Escape Reef. Snorkelling, diving, and glass bottom boat tours allow you to experience the colours and vibrant life of the reef in all its magnificence.
Rainforested Islands
The North Queensland coastline is scattered with islands, large and small, that provide the perfect compliment to the beauty of the Great Barrier Reef. Many of the islands were part of the mainland thousands of years ago, and are covered with the lush rainforest of the Wet Tropics. This is some of the most diverse rainforest in the world. Mangrove forests, fringing reefs, and wide sandy beaches are a stunning backdrop as you get to know the stories and wildlife of this incredible region.
Preserving The Reef
The vibrant beauty and biodiversity that you can see in the Great Barrier Reef today masks a more sombre truth. Recently the Great Barrier Reef has been exposed to above average sea surface temperatures due to the combined effects of climate change and El Niño. Coral Expeditions launched their Great Barrier Reef expeditions to responsibly share this unique ecosystem to the world, and is committed to preservation efforts. They seek to educate and inform their guests about how best to preserve this unique natural wonder and are involved in academic research and grassroots efforts to minimise their impact as a small-scale tourism operator. As a certified member of Ecotourism Australia, Coral Expeditions work closely with the Great Barrier Reef Marine Park Authority who have granted them access to exclusive moorings and share insights on industry best practices.