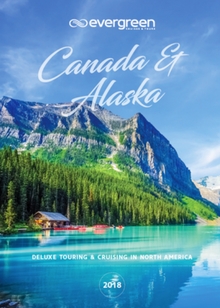 Access the flip brochure here:
Evergreen Canada & Alaska 2018
Download the pdf brochure here:
Evergreen Canada & Alaska 2018
Evergreen Tours
Phone: 1300 383 747
www.evergreentours.com.au
INCLUDES:
Canada, USA
Evergreen Canada and Alaska 2018
North America is a truly incredible and inspiring land of natural beauty, abundant wildlife, rich culture and fascinating history that blend smoothly to provide a wonderful journey.
Containing an immense expanse of untouched wilderness and some of the most majestic mountains on the planet, the west coast of Canada and Alaska is a delight to uncover. Cruise the glacier strewn bays of Alaska's Inside Passage, keep your eyes peeled in anticipation of spotting a grizzly bear, visit harbour side cities abuzz with life, or gaze in awe at snow-covered mountains with quaint villages nestled at their base.
In contrast, the east coast tells stories of a bygone era. Cobblestone streets and traditional buildings stand side by side with modern skyscrapers. French customs and cuisine comfortably blend with daily life and fill your senses with wonder. Colourful villages dot the countryside and in autumn the land becomes ablaze with vibrant colours in an unmissable spectacle of nature.
Experience the wonderland of the Rocky Mountains in winter. A veritable dreamscape, blankets of snow cover the land in a fairy tale pristine white, and activities such as sleigh rides and dog sledding will keep you entertained. With Evergreen Cruises & Tours you'll experience all the must-see attractions and destinations you expect, as well as some breathtaking sights you never knew existed.
In this brochure you will find an outstanding combination of luxurious cruises, enthralling rail journeys and superb accommodation, combined with spectacular scenery, memorable attractions, sumptuous cuisine and friendly people to ensure your journey with Evergreen is unforgettable.