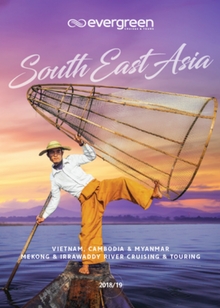 Access the flip brochure here:
Evergreen Cruises & Tours South East Asia 2018-19
Download the pdf brochure here:
Evergreen Cruises & Tours South East Asia 2018-19
Evergreen Tours
Phone: 1300 383 747
www.evergreentours.com.au
INCLUDES:
Cambodia, China, Japan, Laos, Singapore, Vietnam
Evergreen Cruises & Tours South East Asia 2018-19
Evergreen Cruises & Tours has an excellent reputation for quality, value and professional service. From start to finish they carefully plan, arrange and coordinate every aspect of your holiday. Their itineraries are cleverly designed with the appropriate balance of inclusions, must-see sights and free time, all planned to unlock the richness and vibrancy of South East Asia. At Evergreen they pride themselves on including all the essentials for a seamless touring experience. This ensures that not only are your deluxe hotels, must-see attractions, local experiences, specialist Tour Directors, most meals and all transport included but there are also no hidden costs such as hotel porterage, taxes, tips and gratuities. As part of the Scenic Group, they use the organisation's purchasing power and impeccable reputation to ensure they pass on the best value and service to you.
Their inclusions bring to life the Vietnam, Cambodia and Myanmar you've always imagined. They know you'll never forget the moment you first laid eyes on stunning Halong Bay, the excitement you felt discovering the remarkable Cu Chi Tunnels, the unforgettable feeling as you approached the ancient ruins of Angkor Wat, or the sight of great temples, pagodas and monasteries stretching out across the plains of Bagan. Each one is a unique, unsurpassed gem and an included premium highlight with Evergreen that makes your tour complete.
With 38 years experience, Evergreen are cruising and touring specialists and they aim to bring you real life experiences and reveal the hidden gems of Vietnam, Cambodia and Myanmar. With the diverse and natural beauty of the land, the warm and welcoming people, the rich history and culture and the delicious cuisine, combined with first class accommodation, coaches, Tour Directors and Coach Drivers, they have hand crafted the perfect holiday that will leave memories lasting a lifetime. Every one of their unforgettable cruises has been designed to showcase the best of the local region. Relax in the comfort of your luxurious suite or take in the panoramic views from the sun deck as views of ancient pagodas, small villages and river life pass you by. After welcoming you on board, simply unpack once, settle in and feel right at home!