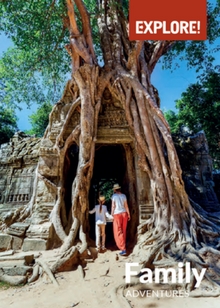 Access the flip brochure here:
Explore Family Adventures 2018
Download the pdf brochure here:
Explore Family Adventures 2018
Explore
Phone: 1300 439 756
www.exploreworldwide.com.au
INCLUDES:
Australia, Belize, Botswana, Cambodia, Canada, China, Costa Rica, Croatia, Cuba, Ecuador, Egypt, Finland, France, Greece, Guatemala, Hong Kong, Iceland, India, Indonesia, Ireland, Israel, Italy, Jordan, Liechtenstein, Malawi, Malaysia, Maldives, Mali, Morocco, Namibia, New Zealand, Nicaragua, Norway, Oman, Peru, Poland, Portugal, Romania, Russia, Russia, Slovakia, Slovenia, South Africa, Spain, Sri Lanka, Swaziland, Tanzania, Thailand, Turkey, Vietnam, Zambia
Explore Family Adventures 2018
What can be better than sharing new experiences as a family – exploring new cultures and landscapes and making memories together to talk about for years to come. Explore aim to provide something to inspire everyone, from activity holidays in Europe to far- flung adventurous destinations around the world.
Explore has been planning pioneering small group adventure holidays for 36 years, and this year they're proudly celebrating 15 years since they launched their first family brochure, back in 2003. Many of the Explore team are parents themselves and they work hard to ensure their trips appeal to the whole family. You can use their handy Holiday Planner to help you pick the trip that's right for you, and they've also included trip grades that outline the pace of each holiday, from relaxed to full on. Explore have aimed to make each description as detailed as possible, but you can find lots more information online for each trip, including feedback from families who have experienced the trips themselves. Feedback like this is invaluable to them and they love hearing from you. They appreciate all of your comments and especially love seeing photos of your trip, some of which feature in this brochure.
This year Explore have some exciting new destinations like Indonesia, as well as reintroduced trips exploring Slovenia and Portugal which are back by popular demand. As well as their small group departures that encourage making new friends and sharing experiences, they also offer Private Trips – ideal for celebrations or multigenerational holidays – and their new Explore Lite trips, which offer value for money and flexibility. Explore have also created a new range of more intrepid holidays for older children in their Family Beyond collection.
There really is something for everyone. Sending you around the world is important business – discovering new cultures, meeting friendly communities and trying different experiences. Explore don't take this lightly and as such they follow five values to ensure that Explore are always providing the best service to their staff, their suppliers, the communities they visit and most importantly: you.