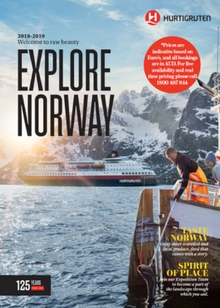 Access the flip brochure here:
Hurtigruten Explore Norway 2018-2019
Download the pdf brochure here:
Hurtigruten Explore Norway 2018-2019
Bentours
Phone: 1800 221 712
www.bentours.com.au
INCLUDES: Norway
Hurtigruten Explore Norway 2018-2019
The essence of Norway's appeal is remarkably simple: this is one of the most beautiful countries on earth. Hurtigruten provides adventures that are unmistakably Norwegian, sailing under the Midnight Sun in summer and the Northern Lights during winter. With daily departures, their ships journey calmly through majestic fjords and call on small, remote ports in places most vessels are unable to reach. And they have been sailing here for 125 years. As Hurtigruten celebrates their anniversary in 2018, you will experience festivities onboard all their ships from April to December with special five-course dinners, lectures, and limited edition souvenirs.
Along the route, you can choose from more than 90 excursions, and take part in hikes and 'friluftsliv' activities led by onboard expedition teams. These dedicated experts have a single mission: to enhance your experience by leading activities and interpreting the cultural and natural treasures you will see during your voyage. When you sail with Hurtigruten, you will not just observe – you will have the chance to truly interact with the landscape you sail through. These journeys are a treat for all your senses. Not only will you experience one of the most beautiful areas on the globe, you will have the chance to taste the freshest local specialities from Norwegian artisans. This might be why so many guests from home and abroad sail with Hurtigruten. They want the original. They want to go where no one else goes, with a crew and a ship that belongs there. They want to experience and learn from guides who truly know this coast, who have Norway in their DNA.
Hurtigruten has been sailing the Norwegian coast since 1893, but they are still exploring and renewing themselves. Sustainability is given top priority in Hurtigruten, and they have already modified several vessels for shore power. Their fleet has an optimal vessel size for exploration cruises, with all the necessary manoeuvrability, power and capacity. Hurtigruten takes pride in bringing you safely and comfortably to amazing destinations based on a sustainable way of operating.
Join Hurtigruten for an adventure filled with spectacular nature and active experiences. And become a part of the local life of Norway, to take part in our 125th anniversary celebration – and to connect with your inner explorer.