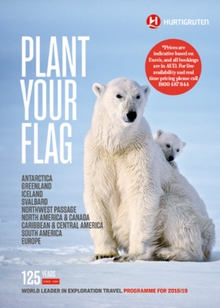 Access the flip brochure here:
Hurtigruten Plant Your Flag 2018-19
Download the pdf brochure here:
Hurtigruten Plant Your Flag 2018-19
Bentours
Phone: 1800 221 712
www.bentours.com.au
INCLUDES: Antarctica, Argentina, Belgium, Belize, Brazil, Canada, Chile, Colombia, Costa Rica, Ecuador, France, Germany, Greenland, Honduras, Iceland, Mexico, Netherlands, Nicaragua, Norway, Panama, Peru, Portugal, Spain, Svalbard, United States, Uruguay
Hurtigruten Plant Your Flag 2018-19
You don't need to climb Everest to plant a flag. With Hurtigruten's Explorer fleet, you can realise dreams large or small, from setting foot on untouched wilderness, to simply trying something new.
Hurtigruten offers unforgettable wilderness and cultural adventures to explorers all over the world. They sail from pole to pole, in both polar and warm waters.
For nearly 125 years, Hurtigruten have sailed along the rugged and beautiful Norwegian coast. Their highly experienced captains and crew also know the waters around Spitsbergen, Iceland, Greenland, Canada, and Antarctica like their own backyards. Now they will take you safely to exotic waters in the Caribbean and South America as well!
Sailing in pristine environments comes with a big responsibility. That´s why Hurtigruten has invested in green technology for the future, such as their newest expedition ship, MS Roald Amundsen, which joins their fleet in 2018. This vessel is designed as the world´s most modern explorer ship, with focus on maximum safety, guest comfort, energy efficiency and environmental protection. But what is most remarkable about MS Roald Amundsen is the ship´s new hybrid battery technology, which allows it to explore untouched wilderness more quietly and cleanly than ever before.
Every ship in Hurtigruten's explorer fleet is a comfortable basecamp at sea, tailor-made for you to connect with your inner explorer. And you will be able to do so in the footsteps of the great explorers of the past.
In 1911, Roald Amundsen sailed south with the original Fram and became the first person to reach the South Pole. After a dramatic race, he planted his flag at the world´s most southerly point.
Now, Hurtigruten encourages you to plant your flag.