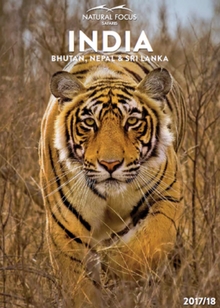 Access the flip brochure here:
NFS India 2017-18
Download the pdf brochure here:
NFS India 2017-18
Natural Focus Safaris
Phone: 1300 363 302
www.naturalfocussafaris.com.au
INCLUDES:
Bhutan, India, Nepal, Sri Lanka
Natural Focus Safaris India 2017-18
The Indian subcontinent is an intoxicating blend of ancient and modern, with fortresses, palaces, camels and rickshaws jostling for space alongside skyscrapers and cars. A melting pot of cultures, cuisines, languages and religions, the region's diversity will astound whilst its storied history – brimming with monarchs, gods and European colonials – will capture your imagination. Furthermore, it's the only place on Earth where both lions and tigers can be found in their natural habitat.
To experience the many dimensions of the subcontinent, Natural Focus Safaris offer personalised, tailor-made touring.
Combine exquisitely restored royal homes such as Taj Lake Palace in Udaipur and the rustic luxury of remote safari camps such as Chena Huts in Sri Lanka's Yala National Park and Jamtara Wilderness Camp in India's Pench National Park. This year Natural Focus Safaris have included more wildernesses such as scenically beautiful Corbett National Park, Keoladeo National Park – a birder's paradise and Gir Forest, the last bastion of the Asiatic lion.
For a unique perspective of the landscape, consider journeying aboard an award-winning train such as the Maharaja's Express. You can also cruise southern India's backwaters or the sacred Ganges. In the Himalayas, explore hidden mountain monasteries and ancient fortresses in Bhutan, a Buddhist kingdom that has remained unchanged for centuries. For a one-in-a-lifetime experience, take a flight over Mount Everest from Nepal.