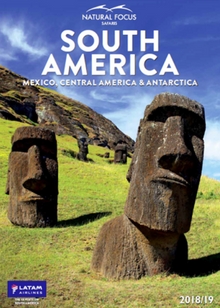 Access the flip brochure here:
Natural Focus Safaris South America 2018-19
Download the pdf brochure here:
Natural Focus Safaris South America 2018-19
Natural Focus Safaris
Phone: 1300 363 302
www.naturalfocussafaris.com.au
INCLUDES:
Argentina, Belize, Bolivia, Brazil, Chile, Colombia, Costa Rica, Cuba, Easter Island, Ecuador, Guatemala, Mexico, Nicaragua, Panama, Paraguay, Peru, Uruguay
Natural Focus Safaris South America 2018-19
Natural Focus Safaris is a specialist travel company focusing on personalised itineraries to iconic wildlife and wilderness destinations.
Natural Focus Safaris are one of Australia's oldest independently owned travel companies, and for over 30 years with their parent company African Wildlife Safaris, have built up an enviable reputation for their in-depth expertise and professionalism. Their dedicated staff are all passionate travellers who between them have travelled to all destinations, including South and Central America. Covering such a vast region, travel to South and Central America can seem a little daunting. That is where Natural Focus Safaris' expert team of specialised advisers can help. With their hands-on knowledge, they will help custom design the perfect itinerary, cruise or wilderness adventure that fulfils the South and Central America experience you're dreaming of.
The vast continent of South America offers a huge diversity of things to see and do. They are experts in tailor- made travel, and can design itineraries for both individual travellers and private groups. Here, they have put together a few sample journeys to help you start planning your ultimate South America and/or Central America experience.
Peru
Peru is a mysterious land of ancient Inca ruins, flamboyant Spanish architecture, snow-covered mountains and lush Amazon jungle teeming with spectacular fauna and flora. Visit the ancient Inca capital of Cusco and travel by train along the beautiful Sacred Valley to the Inca citadel of Machu Picchu. View the mysterious Nazca Lines, sail to the floating islands of Lake Titicaca or explore Baroque churches in Cusco and Arequipa.
Bolivia
Discover the extraordinary scenery, rich culture, bustling markets and undiscovered realms of Bolivia. Explore breathtaking Lake Titicaca, the lofty city of La Paz, the colourful Sunday Market at Tarabuco near Sucre, the medieval mines at Potosi, and Salar de Uyuni, the world's largest salt lake.
Ecuador
Most famous for the Galapagos Islands, mainland Ecuador also has spectacular scenery, wildlife, history and Andean cultures. Straddling the Equator, from which comes its name, this tiny country is easy to explore, from the Pacific Coast to the towering snow-capped volcanoes of the Andes and then down again to pristine Amazon Rainforest. The towns of Quito and Cuenca are jam-packed with rich architecture, magnificent churches, convents, museums and wonderful crafts.
Chile
A narrow strip of land between the high Andes and the Pacific Ocean, Chile stretches an incredible 4,300km from north to south. It is a land of spectacular geography and diverse scenery, including harsh deserts, fertile valleys, breathtaking icefields and towering peaks. Chileans exhibit a fascinating blend of European and Latin American cultures. Stopover in Chile's capital, Santiago, an energetic metropolis with a mix of modern and Spanish colonial architecture, excellent shopping and sophisticated restaurants. A half day city tour includes San Francisco Church, Plaza de Armas and Cerro San Cristobal, a hilltop park which offers superb views. Sandwiched between the snow-capped Andes mountains and the Pacific Ocean, Santiago is also gateway to great hiking opportunities in the east and beaches to the west.