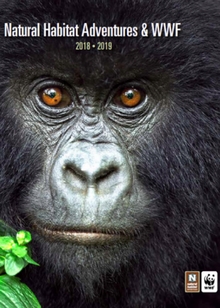 Access the flip brochure here:
Natural Habitat Adventures & WWF 2018-2019
Download the pdf brochure here:
Natural Habitat Adventures & WWF 2018-2019
Natural Habitat Adventures
Phone: +1 303 449 3711
www.nathab.com
INCLUDES:
Angola, Argentina, Belize, Bhutan, Botswana, Brazil, Canada, Chile, China, Costa Rica, Cuba, Easter Island, Ecuador, Ethiopia, Greenland, Guatemala, Hawaii, Iceland, India, Kenya, Kiribati, Madagascar, Mali, Mexico, Namibia, Nepal, New Zealand, Norway, Panama, Peru, Pitcairn Island, Portugal, Rwanda, South Africa, Sri Lanka, Svalbard, Tahiti, Tanzania, Thailand, Uganda, United States, Zambia, Zimbabwe
Natural Habitat Adventures & WWF 2018-2019
When you travel with Natural Habitat Adventures and World Wildlife Fund, you join them as a force for positive change. Through group travel, like-minded people share amazing experiences. Yet many people are wary of group travel because they associate it with big crowds spending a lot of time getting on and off big buses. Their trips are different. They keep their groups extremely small—just eight or nine participants on average. This way, they're able to provide one-on-one attention from their Expedition Leaders and staff to ensure that the guests enjoy the most intimate, authentic and rewarding experiences in nature. They count many avowed "non-group" travellers among their repeat guests.
Natural Habitat Adventures is pleased to offer both scheduled and custom adventures for families of all generations and sizes. They design each trip to accommodate different ages, abilities and interests. Drawing on three decades of experience in arranging custom departures for groups ranging in size from 4 to 40, they carefully craft the activities, itinerary and accommodations to create a trip ideally suited to family-specific desires. And the Expedition Leaders they choose to lead their family trips have a special rapport with kids.
Most of Natural Habitat Adventures' guests choose to join one of the hundreds of scheduled departures around the globe. These adventures are always accompanied by one or more of experienced Expedition Leaders. Some guests opt to have Natural Habitat Adventures plan a Custom Adventure instead. Whether it's specific dates you need or you just want the exclusivity of your own private party, Natural Habitat Adventures can make your personalised dream trip a reality.
The word "luxury" means different things to different people. So, too, has its meaning changed over the years. In days gone by, "luxury" often referred to a level of opulence available to a select few. Today, many of those sorts of traditional luxuries are widely available and are no longer the exclusive domain of the very wealthy. While the fine amenities at many of Natural Habitat Adventures' accommodations certainly meet the standard definition of "luxury," their sense of the word goes far beyond silver table settings or high thread-count linens.