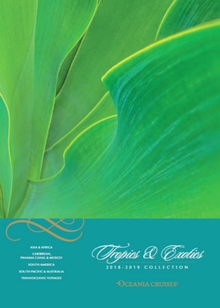 Access the flip brochure here:
Oceania Cruises Tropics & Exotics 2018-2019
Download the pdf brochure here:
Oceania Cruises Tropics & Exotics 2018-2019
Oceania Cruises
Phone: +61 2 9959 1371
www.oceaniacruises.com
INCLUDES:
Argentina, Australia, Belize, Brazil, Chile, China, Cuba, Easter Island, Ecuador, El Salvador, Fiji, France, Hong Kong, India, Italy, Japan, Marshall Islands, Mexico, New Zealand, Panama, Peru, Philippines, Singapore, South Africa, Tahiti, United Arab Emirates, Uruguay
Oceania Cruises Tropics & Exotics 2018-2019
Perfect for travel connoisseurs, this collection of epic adventures brings you to the far corners of the world for exotic explorations and fascinating discoveries. As you enjoy authentic experiences around the world, savour The Finest Cuisine at Sea™ and relax aboard Oceania Cruises' intimate and luxurious ships.
During relaxing days at sea, indulge in a soothing massage at the Canyon Ranch SpaClub®, partake in a wine tasting led by one of Oceania Cruises' expert sommeliers or attend an engaging guest lecture.
Enjoy a romantic dinner for two at one of Oceania Cruises' exquisite gourmet restaurants and crown the night with a lively musical. It's your turn to explore the world the way you've always imagined.
Oceania Cruises invites you on a grand exploration that finally fulfils your passion for world travel. While every aspect of the Oceania Cruises experience is a study in gracious understatement, their passion for serving The Finest Cuisine at Sea™ is anything but. Oceania Cruises' commitment to culinary excellence shines from beginning to end, from sourcing premium artisanal ingredients from around the world to their spacious state-of- the-art galleys and their distinguished chefs who are continually inspired by Master Chef Jacques Pépin, Oceania Cruises' Executive Culinary Director. Throughout your magnificent journey, you are certain to experience the luxury of exquisite cuisine aboard Oceania Cruises regardless of where you may dine or what you choose to order. From reading comfortably in the library to sipping fine vintages at a wine tasting, a wonderful spectrum of enriching activities awaits you on board.
Attend an engaging guest lecture in anticipation of your next destination, or learn to prepare a variety of exquisite dishes at "The Culinary Center", Oceania Cruises' state-of-the-art cooking school on Marina and Riviera. Embrace your inner artist at Artist Loft, where talented artists-in-residence offer inspiring workshops on Marina, Riviera and on Insignia world cruises. Spend the afternoon with friends at a lively trivia contest or bridge tournament. Or simply lose yourself in deep relaxation with one of Canyon Ranch SpaClub's signature treatments.