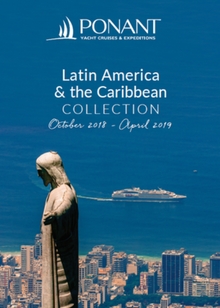 Access the flip brochure here:
Ponant Latin America & the Caribbean 2018-2019
Download the pdf brochure here:
Ponant Latin America & the Caribbean 2018-2019
Ponant
www.ponant.com
INCLUDES:
Argentina, Barbados, Belize, Brazil, British Virgin Islands, Canada, Chile, Colombia, Costa Rica, Cuba, Curaçao, Dominican Republic, Ecuador, Grenada, Guatemala, Guinea-Bissau, Honduras, Mexico, Nicaragua, Panama, Peru, Saint Lucia, Saint Martin, Saint Vincent and the Grenadines, Senegal, Suriname, United States, Venezuela
Ponant Latin America & the Caribbean 2018-2019
From the Panama Canal and the Caribbean to Cape Horn, only the Latin American continent can boast such a wide variety of unique landscapes, historical sites and mythical destinations on a single land mass. Since Ponant was created nearly 30 years ago, Latin America has been a key destination, attracting lovers of the great outdoors, aficionados of culture and history, travellers looking for something new.
This season, Ponant's specialists have once again prepared exceptional itineraries for you. Ponant's five ships in the region, including the latest addition to their flotilla, Le Champlain, will call at 26 countries: Mexico, Chile, Argentina, Brazil, Panama, without forgetting Cuba, the Dominican Republic and many, many more… These ports of call are the gateway to exceptional natural and cultural discoveries, taking in pre-Columbian sites and colonial cities, many of which are UNESCO World Heritage sites. Ponant's exclusive programmes allow you to visit them before, during or after your cruise.
A thirst for adventure? Ponant's luxury expedition cruises are the solution, between Tierra del Fuego, the Sea of Cortez, sailing the meanders of the great South American rivers or in the fabulous national parks of Central America.
Do not miss the expanses of Patagonia, the majestic glaciers of the Beagle Channel, the Amazon with its banks teeming with fascinating wildlife, the unforgettable bay in Rio, and the Caribbean islands with their heady beauty: Latin America is calling you!