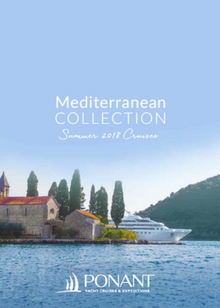 Access the flip brochure here:
PONANT Mediterranean Collection Summer 2018
Download the pdf brochure here:
PONANT Mediterranean Collection Summer 2018
Ponant
www.ponant.com
INCLUDES:
Croatia, Egypt, France, Greece, Italy, Jordan, Malta, Morocco, Portugal, Senegal, Spain
Ponant Mediterranean Collection Summer 2018
From Ancient Greece to Rome, Egypt to the Spanish shores, in the Adriatic or in the heart of the islands in the Aegean Sea, the Mediterranean is multi-faceted and eternal. Here lies our European heritage, on the shores of the Mare Nostrum that was the cradle of the first maritime explorations…
PONANT is proud to help you discover this heritage in the most authentic and exclusive way possible. The exceptional, modern, innovative and limited-capacity yachts enable you to access not only the must-see spots and Unesco World Heritage Sites, but also original and little-known ports of call and secret coves.
You may also choose to take a themed cruise, whether you prefer music, gastronomy or golf. Cultural discoveries will abound, with incredibly rich land based programmes, and guest lecturers who are experts in art, architecture or archaeology.
This new season offers PONANT guests the opportunity to discover the new series of yachts, the PONANT Explorers. For their inaugural season, the first two of these, Le Lapérouse et Le Champlain, will be sailing to the Mediterranean in the summer of 2018. On board, PONANT perpetuates the French way of life and traditions, their signature for nearly 30 years.
Your next summer trip will begin as you leaf through this latest edition…