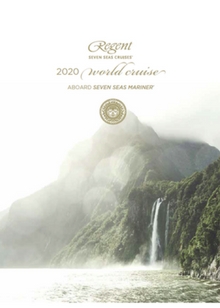 Access the flip brochure here:
Regent Seven Seas 2020 World Cruise
Download the pdf brochure here:
Regent Seven Seas 2020 World Cruise
Regent Seven Seas Cruises
Phone: 1300 455 200
www.rssc.com
INCLUDES:
Australia, Colombia, Costa Rica, Egypt, Greece, Guatemala, Hawaii, India, Indonesia, Israel, Italy, Jordan, Malaysia, Mexico, Monaco, New Zealand, Nicaragua, Oman, Panama, Singapore, Spain, Sri Lanka, Thailand, Turkey, United Arab Emirates, United States
Regent Seven Seas 2020 World Cruise
Simply put, this is the voyage of a lifetime. One that will offer you unrivalled moments of joy and wonder, as well as offer the most valuable included amenity of all: unforgettable experiences.
Bay Area to Bora Bora
While San Francisco's famed Chinatown is humming with dancing dragons in anticipation of the Chinese New Year, you will be in the nearby scenic neighbourhood of Nob Hill, attending an exquisite gala dinner at the Ritz-Carlton and mingling with your fellow World Cruisers. The celebration continues the following evening, as you sail under the sweeping span of the Golden Gate Bridge on your way to the Pacific. After a few golden sunsets you may find yourself snorkelling in stunning Fakarava, deemed a UNESCO Biosphere Reserve, and in Bora Bora you may meet lovely locals and swim in the famous translucent lagoon.
Reefs and Relics
Make your way across the contrasting continents of Australia and Asia, where you may discover awe-inspiring natural marvels, such as the Great Barrier Reef, as well as incredible man-made feats of architecture like the Taj Mahal with Regent's optional tours. As part of the extensive menu of included shore excursions, experience more UNESCO treasures that will stay with you forever, such as the beautiful rice terraces of Bali and the mystical Elephanta Caves near Mumbai. As always, these tours are unlimited, allowing you to check-off as many wondrous places as you please.
Awe of April
Spring is the perfect time to take in the sites where ancient wonders of the world once stood, as well as at the centre of modern spirituality. From mid- to late-April, the weather is mild and the visitors are fewer in numbers in Western Asia and the Mediterranean — a favourable time of year for this poignant stage of your journey. In a span of 15 days, you will have the incredible opportunity to tour the archaeological site of Petra, cross the Nile toward the famed Valley of the Kings, stop at the Western Wall, the Christian Quarter and the golden-topped Dome of the Rock; take a guided tour of the mesmerising Acropolis in Athens, and even visit the Vatican in Rome.
Pompeii to Panama
As you sail around Italy's boot, explore seven UNESCO World Heritage Sites as part of Regent's Free Unlimited Excursion menu, such as the imposing Mount Etna from Taormina and the ruins of Pompeii from Capri — one of the world's most engrossing archaeological experiences. Your journey into the history of ancient cultures and exploration of iconic places continues in the New World. Witness the once magnificent Mayan city of Quiriguá from Puerto Quetzal that is surrounded by lush flora. And in Cartagena walk the perimeter of the San Felipe Fortress, the largest Spanish fort in the Americas, which took more than 200 years to complete.