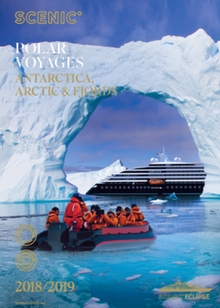 Access the flip brochure here:
Scenic Antarctica Arctic & Fjords 2018-2019
Download the pdf brochure here:
Scenic Antarctica Arctic & Fjords 2018-2019
Scenic
Phone: 138 128
www.scenic.com.au
INCLUDES:
Argentina, Brazil, Canada, Chile, Colombia, Croatia, Cuba, Denmark, Ecuador, Finland, France, Georgia, Germany, Gibraltar, Greece, Greenland, Iceland, Ireland, Italy, Morocco, Norway, Panama, Peru, Portugal, Spain, Svalbard, Sweden, Turkey, United Kingdom, United States
Scenic Antarctica Arctic & Fjords 2018-2019
From the Arctic to Antarctica and everywhere in between, ocean cruising has never felt like this. Thanks to 6-star luxury and world-class innovation, every aspect of your cruise has been designed to provide you with the ultimate experience of a lifetime. Discover a whole new world.
Wonder is a personal emotion, it's about the heart and the mind, joy, surprise, curiosity and awe. Wonder can be a whole day or a fleeting moment.
Travel is about more than distance. It offers us not just a journey across the world to see new sights but to the heart of what it means to be human. It allows us to step outside our normal parameters and become enriched by what we encounter. It presents us with limitless possibilities to become more than we were before.
At Scenic they celebrate the art of wonder through travel. Scenic's aim is to elevate your cruise from a mere holiday into a journey of discovery. Never lose your sense of wonder.
From your transfers and tips, your exclusive shore excursions including Zodiacs, kayaks, e-bikes, and even your mini-bar, you won't have to worry about money at all. They won't even ask for your credit card at check in. They've thought of everything, including bottled water onshore. The only thing they don't cover is your postcards home. But then you'll be too busy having the time of your life to write them.
Spacious surrounds
From the moment you step on board, you'll be spoilt for choice. With an abundance of public spaces and no more than 228 guests, only 200 in the Arctic and Antarctica, there is plenty of room for you to roam. Enjoy a cocktail in the elegant Lobby Lounge, or spot an iceberg or ten from the Observatory. Or relax and watch the world cruise by from your private verandah.
 That's entertainment
On board entertainment is sure to be one of the many highlights of your cruise. The state-of-the-art Theatre with luxurious custom designed seating will host a range of performances, presentations, concerts, movies and more. Whilst the Lobby Lounge will feature nightly live entertainment.