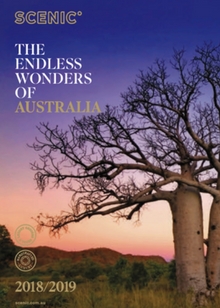 Access the flip brochure here:
Scenic Australia 2018-2019
Download the pdf brochure here:
Scenic Australia 2018-2019
Scenic
Phone: 138 128
www.scenic.com.au
INCLUDES:
Australia
Scenic Australia 2018-2019
Discover endless contrast in Western Australia, the rugged beauty of Tasmania and the gastronomic delights of South Australia. Admire the awe-inspiring natural wonders of the Kimberley region and magnificent Uluru in Australia's heart, or dive into the wilderness of Cradle Mountain and the coastal beauty of windswept Norfolk Island. Whatever you choose, Australia is yours to discover.
From the sparkling coastlines of Western Australia to the wilderness of Tasmania and verdant wine regions of South Australia, be amazed by all this vast continent has to offer.
Western Australia
Offering one of the country's most diverse landscapes, Western Australia truly features something for everyone. Marvel at its many wonders, from the soaring canyons of the Kimberley to the beauty of the Coral Coast, and of course, indulge in the many gourmet treats on offer in Margaret River.
Northern Territory
Journey through the 'Red Centre', explore the delights of Darwin and discover the timelessness of Kakadu National Park. From thousands of years of culture to majestic monuments to nature, there's plenty to discover.
South Australia
A delight to your senses, South Australia is renowned for its culture and gourmet cuisine. Its natural wonders are revealed as you explore the rugged expanse of Wilpena Pound and the untamed majesty of Kangaroo Island.
Tasmania and Norfolk Island
Tasmania is a revelation. Marvel at the beauty of Cradle Mountain, visit convict relics and explore Hobart. On Norfolk Island, discover stories from its convict past, unearth a lost language and sample local delicacies.
Wonder is a personal emotion, it's about the heart and the mind, joy, surprise, curiosity and awe. Wonder can be a whole day or a fleeting moment.
Travel is about more than distance. It offers us not just a journey across the world to see new sights but to the heart of what it means to be human. It allows us to step outside our normal parameters and become enriched by what we encounter. It presents us with limitless possibilities to become more than we were before. At Scenic they celebrate the art of wonder through travel. Scenic's aim is to elevate your trip from a mere holiday into a journey of discovery.
Never lose your sense of wonder.