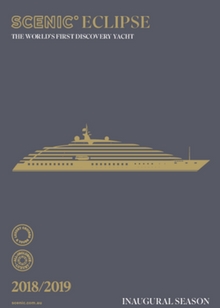 Access the flip brochure here:
Scenic Eclipse Inaugural Season 2018-2019
Download the pdf brochure here:
Scenic Eclipse Inaugural Season 2018-2019
Scenic
Phone: 13 81 28
www.scenic.com.au
INCLUDES:
Argentina, Bahamas, Belize, Brazil, Canada, Chile, Colombia, Croatia, Cuba, Ecuador, France, Greece, Greenland, Iceland, Ireland, Isle of Man, Italy, Monaco, Montenegro, Morocco, Norway, Panama, Peru, Portugal, Spain, Turkey, United Kingdom, United States
Scenic Eclipse Inaugral Season 2018-2019
Scenic introduces Scenic Eclipse, the World's First Discovery Yacht.
Their passionate team are experts in their fields, from the Journey Designers, curating the best of what the world has to offer, to the Captain and his crew navigating the world's oceans and seas, and the butlers greeting each new guest as you step on board.
At Scenic, they believe true luxury is all-inclusive and found in the thoughtful details. From your transfers and tips, your exclusive shore excursions including Zodiacs, kayaks, e-bikes, and even your mini-bar, you won't have to worry about money at all.