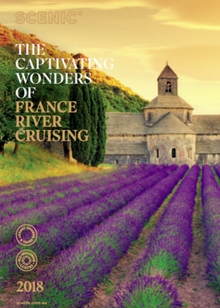 Access the flip brochure here:
Scenic France River Cruising 2018
Download the pdf brochure here:
Scenic France River Cruising 2018
Scenic
Phone: 138 128
www.scenic.com.au
INCLUDES:
France, Portugal
Scenic France River Cruising 2018
Follow the same waterways that shaped the cultural and economic landscapes of one of Europe's most remarkable nations. Experience grandeur of the highest degree from private classical concerts in grand châteaux to an exclusive dinner and concert at the magnificent Popes' Palace. Discover places of incredible beauty, and a culture that helped to redefine the world.
Weaving their way like a thread across the tapestry of France is the diverse and historic river system which the Scenic Space-Ships have made their own.
A country that has captivated hearts for centuries, with charming stone villages in the south, iconic wine-growing regions in the west and a poignant war history in the north, France is as diverse as it is beautiful.
The Saône and Rhône
Some of the country's best-loved destinations are found in the South of France. Famous for its beautiful countryside, delicious fare and amazing architecture, you'll enjoy a unique insight into this stunning part of the world.
Bordeaux waterways
Cruising the three rivers – the Gironde, Dordogne and Garonne – that wind their way across the Bordeaux region is simply breathtaking. Situated in the southwest of France, Bordeaux is a region synonymous with exquisite wines grown on its soil.
The Seine
The Seine River is the lifeblood of Paris, however the 'city of light' is just one of the highlights on a cruise along this splendid waterway. Steeped in war history, northern France is also home to epic works of art and a place of staggering beauty.
Portugal's Douro River
The Douro is packed with revelations, from the archaeologically significant Côa Valley to viticultural attractions like the Vinhateiro region. It is a wonder how it has remained so relatively undiscovered.
Intimate and friendly, with every amenity you could wish for, the Scenic Space-Ships were designed with you in mind. From the moment you step on board you'll be spoilt for choice. From their wide selection of dining options right down to your pillow menu, you'll enjoy the ultimate in all-inclusive luxury, every moment of the day.