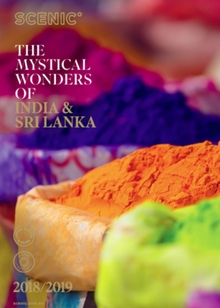 Access the flip brochure here:
Scenic India 2018-2019
Download the pdf brochure here:
Scenic India 2018-2019
Scenic
Phone: 138 128
www.scenic.com.au
INCLUDES:
India, Sri Lanka
Scenic India 2018-2019
Let the magic of India and Sri Lanka sweep you off your feet. The dazzling swirl of colours, flavours and aromas that make up this extraordinary subcontinent will envelop your senses and leave you searching for more. Wherever you choose to explore, your journey will unveil hidden treasures that allow you to see these countries through new eyes.
Charismatic and intoxicating, your time in India and Sri Lanka will leave you with wonderful memories to treasure.
North India
North India's landscape is as diverse as the many people and cultures that make up this intriguing region. Palaces once occupied by Maharajahs, the holy Ganges River, Bengal tigers and some of the most delicious food on earth, there's no end to the incredible experiences that await you across North India.
South India
The Indian motto of 'go with the flow' is never more apt than in sultry South India. The spiritual soul of the sub-continent can be found amongst the thousands of temples honouring ancient beliefs. From the lush Kerala Backwaters to the great temple town of Madurai, a journey to South India will capture your heart.
Sri Lanka
It's easy to see why Sri Lanka is fast becoming a must-see destination. Home to numerous World Heritage Sites and national parks, Sri Lanka's perfect blend of ancient and colonial history, tea plantations, food, culture and friendly people will leave you with memories that last a lifetime.
Wonder is a personal emotion, it's about the heart and the mind, joy, surprise, curiosity and awe. Wonder can be a whole day or a fleeting moment. Travel is about more than distance. It offers us not just a journey across the world to see new sights but to the heart of what it means to be human.
At Scenic they celebrate the art of wonder through travel. Their aim is to elevate your trip from a mere holiday into a journey of discovery. Never lose your sense of wonder.