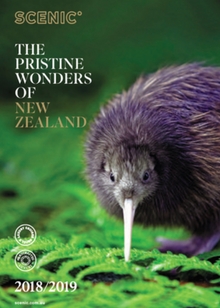 Access the flip brochure here:
Scenic New Zealand 2018-2019
Download the pdf brochure here:
Scenic New Zealand 2018-2019
Scenic
Phone: 138 128
www.scenic.com.au
INCLUDES:
New Zealand
Scenic New Zealand 2018-2019
With Scenic, the perks and privileges come included. Enjoy a full range of luxurious benefits that will enhance your experience throughout your journey.
From Cape Reinga to World Heritage-listed Fiordland National Park, the length and breadth of New Zealand is a wonder-in-waiting for you to discover. A place with many hidden gems; explore bustling towns, breathtaking landscapes and everything in between.
At Scenic, they've combined the ease of luxury travel with a selection of tours that offer you a true insight into the culture, landscape and history of New Zealand.
From the sublime sub-tropical charms of New Zealand's northern tip, to the South Island's wild West Coast and untamed natural beauty, New Zealand will leave you breathless. Enjoy the country's renowned hospitality as you indulge in gourmet treats, admire picture-perfect views and watch myth and legend come to life during traditional cultural displays.
All-inclusive, exclusive and unique – the Scenic Enrich experiences take you behind the scenes for encounters inaccessible to the ordinary traveller.
You'll find that every Scenic journey is rich with possibility. From exploring ancient kauri forests in the Bay of Islands to sampling the best wines, the Scenic Enrich experiences will become a highlight of your time in New Zealand.
Immerse yourself in the rich culture of the Maori people. Amidst the extraordinary beauty of the kauri forests, let their local guides introduce you to the 'Lord of the Forest', Tane Mahuta, a sacred 2,000-year-old tree, and share stories about the Bay of Islands. Explore the living Maori cultural centre Te Puia in Rotorua and spend time in this unique geothermal region.
Mission Estate Winery is New Zealand's oldest winery and the birthplace of New Zealand wine. Meet the makers and sample some of their finest drops. Travel around the world in 21 gardens as you explore the award-winning Hamilton Gardens and enjoy lunch in one of the private themed areas.
These are just some of the personally curated experiences awaiting you. Scenic Enrich experiences are not only completely unforgettable, they'll also enrich your understanding, and appreciation, of the incredible places, cultures and histories you'll encounter.