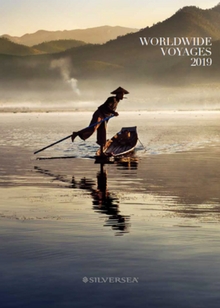 Access the flip brochure here:
Silversea Worldwide Voyages 2019
Download the pdf brochure here:
Silversea Worldwide Voyages 2019
Silversea Cruises
Phone: 1300 306 872
www.silversea.com
INCLUDES:
Anguilla, Australia, Belize, Bolivia, Canada, Chile, Croatia, Cuba, Easter Island, Ecuador, France, Georgia, Germany, Gibraltar, Greenland, Guernsey, Hong Kong, Iceland, India, Italy, Jan Mayen, Japan, Mongolia, Mozambique, Panama, Portugal, Singapore, Spain, Svalbard, Tahiti
Silversea Worldwide Voyages 2019
At Silversea they believe that nothing can rival the wonder of our world. Their curious minds propel them not just to keep exploring our magnificent planet but mostly to experience it. At Silversea their mission is to unlock the most amazing experiences and destinations, and deliver them to you in superlative comfort and luxury. Silversea is committed to making your voyage unforgettable. And that not only means taking you to the most beautiful and hard to reach destinations on the planet, it means taking you there in the comfort and elegance that you deserve.
Big enough for everything you need yet small enough to remain personal, Silversea's ships range in size from 50 to 304 suites to ensure each of the guests finds the perfect balance between choice and intimacy.
Awarded many times over, their itineraries are probably the best in the world. And when they say the world they really mean it, visiting all seven continents. With over 900 destinations visited in 2019, whether it is iconic cities or far flung shores, wherever you want to go, you can get there with Silversea.
With a staff ratio of mostly 1:1 and a dedicated butler for every suite, their service remains the jewel in their crown. Devoted, discreet and experienced, these dedicated men and women are the key to turning your trip into a long- lasting memory.
Perhaps their most talked about distinction, their innovative gourmet excellence stands head and shoulders above the rest. From fine French cuisine, delicate Asian options to relaxed Italian family-style meals, their chef's creativity knows no limits. And with 26 food choices offered on Silver Muse alone, they know you will have your best gourmet experience at sea.
As soon as you are welcomed on board, you become enveloped by the whispered luxury and warmth of their Italian heritage. Silversea expect only the very best in hospitality, sophistication and pampering at sea; as members of their extended family, they think you do too.