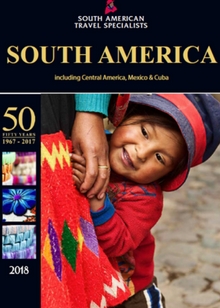 Access the flip brochure here:
South American Travel Specialists South America 2018
Download the pdf brochure here:
South American Travel Specialists South America 2018
South American Travel Specialists
Phone: +61 3 9576 1980
www.southamericantravel.com.au
INCLUDES:
Argentina, Bolivia, Brazil, Chile, Colombia, Cuba, Easter Island, Ecuador, El Salvador, Guatemala, Honduras, Mexico, Peru, Uruguay, Venezuela
South American Travel Specialists South America 2018
South American Travel Specialists are a passionate team of travel specialists with a reputation for delivering premium travel experiences to South America, Central America, Mexico and Cuba. South American Travel Specialists, a division of The Travel Specialists, is there not only to advise you of the best accommodation, most interesting tour, most ideal time of the year to travel, and the best place to see, staying with the best accommodation for your budget, in the best position. Their staff are there to ensure you get the trip you have always dreamed of at the best value for money price.
They know every individual is unique which is why they take time to understand what you are looking for and to ensure they deliver you a trip of a lifetime. They craft your itinerary ensuring attention to detail utilising their wealth of experience and their extensive knowledge bank. Explore South America with them and you will soon see why South American Travel Specialists is a part of one of the longest established and reputable travel businesses in Australia. They love what they do and they're confident you will too.
Peru is legendary among World travellers wanting to see fascinating cultures and well preserved relics from ancient civilisations. Stunningly endowed in history and beauty, boasting a plethora of UNESCO World Heritage Sites, Peru is one of the most enchanting countries in South America.
Bolivia is an expansive, landlocked plateau of barren plains, lush jungle and fertile highland valleys. From the high Andes to the Amazon Basin, with a fascinating history and captivating scenery, Bolivia will be sure to excite. The country has the largest indigenous population of any country in South America, the majority of whom still maintain their traditional culture and beliefs, making this one of the most fascinating countries to visit.
Chile is a country of startling contrasts and extreme beauty, with a range of geographical attractions for anyone who is fascinated with this subject. Stretching long and thin, extending between the high Andes and Pacific Ocean, Chile covers a vastly diverse array of terrain.
Ecuador is the second smallest country in South America and home to a list of UNESCO World Heritage Sites like the colonial city of Quito, historical centre of Cuenca and the jewel in the Pacific Ocean, the 'Galapagos Islands'. They
Argentina is situated between the Andes in the west and the Atlantic Ocean to the east offering enormous diversity, with natural wonders.
Nestled between Brazil and Argentina, Uruguay travel offers vacationers a range of experiences, from exploring the busy urban centre of Montevideo to partying in Punte de Este and taking in the breathtaking natural beauty of Uruguay's rural interior.
Brazil – a land of natural beauty with the white sandy beaches of the Atlantic coast, pristine Amazonian rainforests, the wildlife rich Pantanal and the mighty thunderous Iguassu Falls, as well as the colourful colonial towns of Paraty and Sao Luis, picturesque Rio de Janeiro and Salvador.