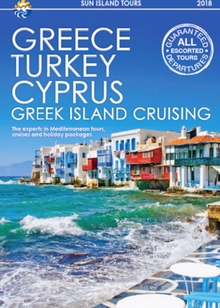 Access the flip brochure here:
Sun Island Tours Greece Turkey Cyprus 2018
Download the pdf brochure here:
Sun Island Tours Greece Turkey Cyprus 2018
Sun Island Tours
Phone: +61 2 9211 3822
www.sunislandtours.com.au
INCLUDES:
Croatia, Cyprus, Greece, Turkey
Sun Island Tours Greece Turkey Cyprus 2018
Why Travel to Greece?
The historic sites on the mainland in Athens, Delphi, Meteora and Olympia, as well as those on the islands. Beaches and nightlife. Picturesque white-washed buildings of the Cycladic Islands with their blue-domed churches. Laid back, cosmopolitan lifestyle of the Dodecanese Islands. The green and fertile Ionian Islands and their beautiful cove beaches. The not-so-touristy islands of the Sporades. The stunning harbours of the Saronic Islands. The unique culture of the Northern Aegean Islands.
The gyros and ouzo. Athens Eleftherios Venizelos Airport is the main airport in Greece, and the major hub for international flights. While there are international flights directly into Thessaloniki, as well as islands such as Crete, Rhodes, Mykonos and Corfu; Athens is the only airport with international flights from Australia.
If you would like to visit the mainland, join one of the Sun Island Tour's escorted coach tours or packages from Athens, which visit the main sites of mainland Greece.
Specialising in the Mediterranean, Celestyal Cruises is owned and operated by Louis Hellenic Cruises, one of the world's leading cruise companies with over 25 years experience. With a fleet of 3 vessels, ships are continuously refurbished and upgraded and are of a standard class with a high level of service. Great value for money. Vessels can hold between 900 to 1670 passengers. Infants under 3 months are not permitted on board. Private accommodation with bathroom, phone, TV and air conditioning.
Some vessels may also include safe, minibar, and hairdryer. Entertainment and activities. Full-board meals; breakfast, lunch, afternoon tea, dinner, and midnight snack. A drinks package (including alcoholic drinks for adults) is included. Service fee is also included. Selected shore excursions are also included.
Private yacht charter is one of the best ways to see the Mediterranean. Sail yourself to villages, secluded bays and beaches or anchor in the sea. The choice is yours. Monohulls are available ranging from 2 cabins to 5 cabins (depending on the port). You must have skippering experience and a recognised qualification, otherwise hire a skipper, sit back, and relax. Standard yacht equipment includes GPS, VHF/DSC radio, charts & pilot book, sun shade, wheel steering, electric windlass, hot water, swimming ladder, inflatable dinghy, shore power cable, radio & CD player. Yachts are comprehensively insured. Yachts are available for week charters only, usually Saturday-Saturday.