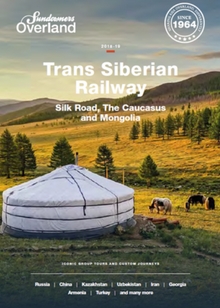 Access the flip brochure here:
Sundowners Overland 2018-19
Download the pdf brochure here:
Sundowners Overland 2018-19
Sundowners Overland
Phone: 1300 559 860 or +61 3 9672 5386
www.sundownersoverland.com
INCLUDES:
Armenia, Azerbaijan, China, Georgia, Hong Kong, India, Iran, Japan, Kazakhstan, Kyrgyzstan, Mongolia, Myanmar (Burma), Oman, Russia, Singapore, Tajikistan, Turkey, Turkmenistan, United Arab Emirates, Uzbekistan
Sundowners Overland 2018-19
Roll along the world's greatest railway and discover that the road less travelled isn't a road at all. Uncover enthralling lands steeped in history and culture; from opulent Russia to wild Mongolia and deep into China's exotic grasp.
They have names like Armenia, Georgia and Azerbaijan but you'll come to know them as spellbinding. Sprinkled among rugged mountain peaks, encounter enchanting villages, cultures and customs that time forgot.
The Silk Road is not a single trade route but a tangle of golden threads connecting East to West. Adventure into ancient lands, where enlightened merchants and bold rulers influenced the development of the modern world. No matter which journey you choose, Sundowners' extended network of people on-the- ground and in your time zone can support you every step of the way.
Writers, artists and adventurers alike have hailed it as the world's greatest train journey; it's certainly the longest. Covering 9,289 kilometres from Moscow to Vladivostok, the iron-way connects East and West over mountains, rivers and time zones.
Unlock the mysteries of Imperial Russia, Siberian civilisations and Soviet influence, then swing southwards into the wild heart of Mongolia, and east into China's exotic grasp. If you want a journey that immerses you in cultures, countries and customs afar, then you're on the right tracks.
Enjoy fascinating interludes in Mongolia, Siberia, and Russia's Golden Ring on this exciting overland journey using iconic rail services between Beijing, Moscow and St. Petersburg.
Railway is extraordinary rail journey spans a third of the globe. Experience traditional Japan and remote Mongolia, and ride the grand Trans Siberian Railway from Vladivostok to the old Tartar capital of Kazan, en route to Moscow. Graceful imperial St. Petersburg is the perfect climax to this historic journey.
Experience the complete Trans Siberian Railway from Moscow to Vladivostok. Travel across two continents, seven time zones and 9,288 kilometres of track. Discover remote Siberia and see Buryat culture first hand beside the shores of Lake Baikal – the world's largest freshwater lake.
Begin by walking the Great Wall of China. Then ride the rails through northern China, far across the vast expanses of the Gobi Desert and the Siberian steppe. Still farther on, find an historic city where Islamic and Orthodox architecture stands side by side. And in the distance, discover Russia's two grandest cities.
Trans Mongolian Express is an amazing adventure for aspiring travellers seeking a great experience in a short time. Take in the highlights: Russia's greatest cities, remote Siberia, Mongolia and the Gobi Desert and Beijing. Travel the rails with the Trans Siberian and Trans Mongolian railways.