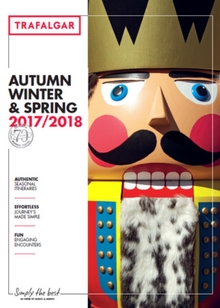 Access the flip brochure here:
Trafalgar Autumn Winter & Spring 2017-2018
Download the pdf brochure here:
Trafalgar Autumn Winter & Spring 2017-2018
Trafalgar
Phone: 1800 002 006
www.trafalgar.com
INCLUDES:
Austria, Czech Republic, Egypt, France, Germany, Greece, Hungary, Iceland, Ireland, Israel, Italy, Jordan, Morocco, Portugal, Russia, Spain, Switzerland, Turkey, United Kingdom
Travels across Europe in the autumn, winter and spring
Uncover the richness of a European country or an area within it. Meet the people, hear their stories and discover their culture. Explore Europe in the autumn, winter and spring by visiting two or more countries within it. Across the regions discover its peoples, stories and cultures in depth.
Take it easier with days that don't begin before 9am and stays of between 2 – 6 nights per destination to enjoy plenty of free time. Cover more ground by maximising your travel time. Meticulously orchestrated, these itineraries move seamlessly from one European destination to the next. These stress-free trips last 7 – 12 days.
CostSaver trips take you through one or more countries offering different inclusions to make your money go further. You get to savour Europe for less with no compromise on quality.
Stand in awe of Mother Nature's dazzling display of multi-coloured luminosity as you stare towards the Northern Lights; one of the world's most miraculous natural wonders. Then let Trafalgar lead you to the warm waters of the Blue Lagoon where you can immerse yourself in healing thermal baths surrounded by moss-covered lava fields. Free your mind and become enchanted.
Visiting Vienna's Christkindlmarkt is a wonderful opportunity to meet the characters who bring this vibrant seasonal market to life. Packed full of authentic, hand-crafted creations; be inspired by each artisan's unique stories of how their imaginative pieces of work have been passed down through generations.
Put a spring back into your step with the joys of a season that brings with it spirited energy and spectacular scenery. As Europe wakes from winter; sample fresh flavours, stroll blooming boulevards, taste your way around farmer's markets and enjoy the year's first al fresco dining experiences.
Let Trafalgar show you the delicious side of Europe in easily digestible portions.