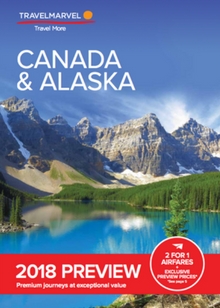 Access the flip brochure here:
Travelmarvel Canada & Alaska 2018 Preview
Download the pdf brochure here:
Travelmarvel Canada & Alaska 2018 Preview
Travelmarvel
Phone: 1300 300 036
www.travelmarvel.com.au
INCLUDES:
Canada, United States
Travelmarvel Canada and Alaska 2018 Preview
With years of touring experience in Canada and Alaska, Travelmarvel has created tailored itineraries that give you a more rewarding holiday. On a Travelmarvel tour of Canada & Alaska, you'll see the famous icons such as the Rocky Mountains, the Inside Passage and The Butchart Gardens, as well as some of the incredible lesser-known attractions.
Insider Experiences have been carefully designed to enrich your journey, taking your holiday from amazing to extraordinary. Look out for the star throughout the itineraries.
While Travelmarvel includes a range of experiences throughout your journey, you'll also get ample leisure time to discover Canada & Alaska at your own pace.
There's no one better to show you the incredible sights than a person who was brought up in the region and intimately understands it. Travelmarvel's friendly Tour Directors and Drivers are locals, who are on hand throughout your journey to assist you whenever needed.
Dedicated Travelmarvel staff is based in Vancouver, giving you the confidence that if the unexpected ever occurs while you are travelling, Travelmarvel staff will ensure you are taken care off with absolute minimal disruption to your holiday.