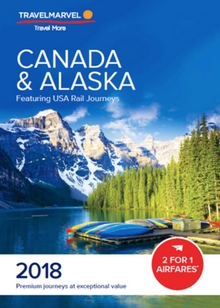 Access the flip brochure here:
Travelmarvel Canada and Alaska 2018
Download the pdf brochure here:
Travelmarvel Canada and Alaska 2018
Travelmarvel
Phone: 1300 300 036
www.travelmarvel.com.au
INCLUDES:
Canada, United States
Travelmarvel Canada & Alaska 2018
An incredible Canada & Alaska experience doesn't need to cost the earth; with Travelmarvel, you'll get all the comforts of a premium tour at truly exceptional value.
Travelmarvel's prices cover everything as detailed, including: airport and hotel transfers, gratuities, excursions, most meals, sightseeing and entrance fees, port charges, and magnificent rail journeys.
While a wide range of incredible experiences are included, you will get ample leisure time to explore at your own pace. You also have the option to combine itineraries to create one seamless journey.
Stay in the heart of Canada and the USA's most magnificent cities, in hotels selected for their iconic or central locations, comfortable accommodation and superb service.
Travelmarvel Tour Directors offer superior knowledge and service, allowing you to experience this wonderful region in style and safety. Travelmarvel cheerful guides are on hand to help in select locations too.
With so many special culinary experiences included throughout your holiday, you're certain to gain a tantalising insight into the diverse tastes and traditions of both Canada and the USA.
Travelmarvel Insider Experiences are a collection of special landmark hotel stays, unique culinary adventures, and a chance for a genuine cultural immersion in each region you visit on your journey.
Choose from a range of select experiences on tour to enhance your journey, giving you further opportunity to pursue your special interests and delve deeper into the culture and history of each region.
Cruise with Holland America Line, the region's leading cruise line, through Alaska's Inside Passage and New England. Relax in your Ocean-view Stateroom and enjoy a day at World Heritage-listed Glacier Bay National Park.
Discover Canada and the USA on a range of iconic escorted rail holidays, including the Rocky Mountaineer, VIA Rail, McKinley Explorer and Amtrak, as well as other local historic rail journeys.
Escape on an optional three-night wilderness adventure to Great Bear Lodge. Here, you'll learn about grizzly bears and leave with a new appreciation for these powerful animals and their stunning surrounds.
As Travelmarvel is part of Australia's leading travel organisation, the APT Travel Group, you can be sure you're in expert hands. You can also relax knowing that your holiday price is guaranteed once your deposit has been paid.