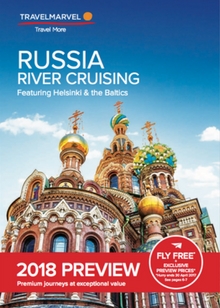 Access the flip brochure here:
Travelmarvel Russia River Cruising 2018 Preview
Download the pdf brochure here:
Travelmarvel Russia River Cruising 2018 Preview
Travelmarvel
Phone: 1300 300 036
www.travelmarvel.com.au
INCLUDES:
Estonia, Finland, Latvia, Lithuania, Russia
Travelmarvel Russia River Cruising 2018 Preview
Travelmarvel's Russia experiences represent a fantastic immersion into this vibrant and fascinating continent. You'll embark on a boutique cruise, stay in premium hotels in central or unique locations, and travel in air-conditioned coaches throughout your journey.
The world's largest country will floor you with its sheer size, magnetic natural beauty and grand opulence. Join Travelmarvel as they explore this majestic nation, discover its rich history and become immersed in its vibrant culture.
Only on a river cruise can you experience the authentic, less-travelled paths of Russia. Sit back and surrender to the warm hospitality and humble lifestyle of the Russian countryside, as you glide along grand canals, rivers and lakes. Explore imperial cities, golden-domed churches and romantic wooden villages, and celebrate the eccentric past of this formidable nation.