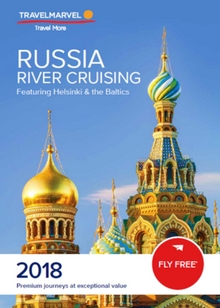 Access the flip brochure here:
Travelmarvel Russia River Cruising 2018
Download the pdf brochure here:
Travelmarvel Russia River Cruising 2018
Travelmarvel
Phone: 1300 300 036
www.travelmarvel.com.au
INCLUDES:
Estonia, Finland, Latvia, Lithuania, Russia
Travelmarvel Russia River Cruising 2018
The world's largest country, Russia, will floor you with its sheer size, magnetic natural beauty and grand opulence, while the ruggedness of the Baltics will enliven your senses.
Sit back and surrender to the warm hospitality and humble lifestyle of the Russian countryside. As you glide along grand canals, discover why more travellers are venturing to the land of vodka and Matryoshka dolls on one of the incredibly popular Travelmarvel Russia river cruises.
Discover Moscow, a city full of character, boasting enthralling cultural wonders from the Kremlin and Red Square, to the uniquely ornate underground railway stations. Embrace the heart and soul of this eclectic capital.
This former imperial capital has emerged to become the cultural hub of modern Russia. Ballet, classical music, art and literature all thrive here, against a backdrop of opulent palaces, golden statues and towering fortresses.
A city filled with captivating natural, cultural and historical attractions, Helsinki offers travellers a unique and lively destination.
Gain an intriguing glimpse into more of Eastern Europe's grandeur with an enthralling land journey through the beautiful and history-rich Baltics. Discover Lithuania, Latvia and Estonia for a unique insight into this fascinating region.
Travelmarvel's English-speaking and experienced staff are among the best in the business. From your expert Cruise and Tour Directors to your cheerful local guides, Ship Captain and crew, you can expect intuitive, friendly and professional service every step of the way.